Ms. Gelardina Prodani
Secretary General of the Ministry of Defence of the Republic of Albania
2022 -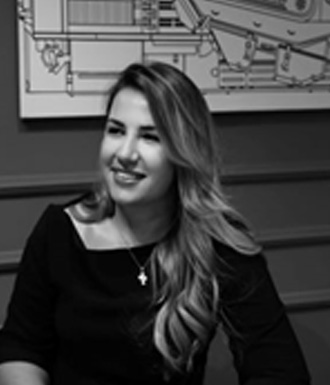 Ms. Gelardina Prodani serves as the Secretary General of the Ministry of Defense of Albania since June 2022 – its highest civil servant position. In this capacity, she is responsible for planning and managing Albania's short and mid-term defense budget, in alignment with the ministry's mission and strategy to maintain peace and bolster security. She also oversees investments in infrastructure, equipment, innovative technology and talent to make Albania more resilient and a more valuable NATO member.
Prior to this, from 2019-2022, she was the Secretary General of the Ministry of Health and Social Affairs. Her tenure was characterized by unprecedented crises such as the major November 2019 earthquake, centered in Durres and the surrounding areas, and the subsequent Covid - 19 pandemic. Ms. Prodani played a crucial role in managing both crises, timely and efficiently assessing damages and identifying risks. She coordinated country-wide efforts while supervising requirements per state budget needs and securing donor funds. Her leadership skills significantly improved the quality of health service and infrastructure in Albania. Appointed National Vaccine Coordinator, she worked closely with the COVAX network. She raised essential funds as donations and offers from all over materialized through her persistent work.
Previously, Ms. Prodani held various leading positions at the Ministry of Finance for a period of twenty-one years. Most notably, from 2013-2019, she served as its Secretary General. During this time, the Ministry of Finance ran thorough and critical reforms in the field of public finances that contributed to the: preservation of macro-fiscal stability; establishment of the Albanian Integrated Financial Management Information System; increasing the role and accountability of all actors involved in the management of public finances, in financial arrears clearing, in donor and foreign aid coordination. At the same time, she held additional positions, such as that of the Director of Albania on the Board of Directors of the Black Sea Bank, in Thessaloniki (2014-2019). She was instrumental in supporting developer projects that significantly impacted the economic development of the country and the entire region.
Ms. Prodani also led the Network of Budget Directors, consisting of twenty-two Eastern and Central European countries and Central Asia for the Public Expenditure Management Program, funded by the World Bank, Switzerland, the OECD and GIZ (2012-2016). Before becoming Secretary General, Ms. Prodani was the Director of Budget Implementation (2005-2013). Under her initiatives to develop a sound, more strategic and inclusive mid-term budget planning, fundamental measures were introduced for effective financial management, monitorization, control and inspection.
Ms. Prodani is the author and co-author of several publications in the field of financial governance, corporate governance and responsibility, and business and management, among others.
She graduated from the University of Tirana Faculty of Economy (1998) and earned a Master's in Economic Policies from Williams College, in the United States (2009), as well as a Master's of European Economic Studies from the University of Tirana & the University of Bamberg (2011).
She is married and has two children.