Adrian Kamenica
Secretary General of the Ministry of Defence of the Republic of Albania
2021 -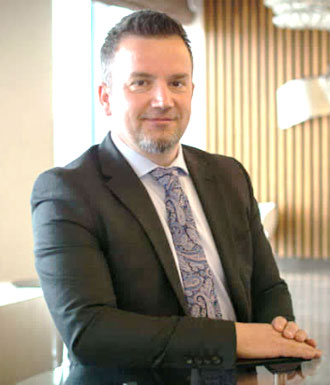 Mr. Adrian Kamenica, since October 2021, is Secretary General of the Ministry of Defence.
Adrian Kamenica has 25 years of work experience, most of which in leading positions in both private and public sector.
Graduated in "Administration and Business Management" from Henley Management College (UK) then pursued a master's degree in "Leadership Innovation and Change" from York St. John University (UK). During this time he has completed a series of trainings and qualifications for public administration, including: "Leading Economic Development and Managing Economic Growth" by Harvard University Center for International Development, "Public Governance and Restructuring Reforms" by Joint Vienna Institute, "Governance and Public Administration" from Singapore Cooperation Program etc.
After many years of experience in different countries, where he held senior management positions in international corporations, in 2006 he returned to Albania in the position of regional manager for a foreign company in the field of mechanical engineering and continuing in the position of manager of Southeast Europefor another foreign company in the field of energy and oil by-products.
In March 2014 he joined the team of the Strategic Investment Development Unit in the Prime Minister, initially in the role of coordinator and then in January 2016 in the position of general director, where, among other things, he was directly engaged in reforms related to: development regional investments, strategic investments, tourist ports as well as economic growth and development of strategic sectors.
In March 2018, he was appointed Secretary General of the Ministry of Tourism and Environment.